Grace Qnique 15R + Continuum Frame
Quilt your quilts faster and easier with a longarm quilting machine!
Machines and Frames ship in 3-5 business days.
This Grace Qnique 15R and Continuum Frame Combo includes:
Grace Qnique 15R / 14+ (stitch regulated longarm machine)
Continuum Quilting Frame in the length of your choice
Cloth leaders to attach your quilt to the machine
Channel locks to lock the carriage and stitch vertical or horizontal lines
Leader Cloth to fit the length of your frame
Front handles and monitor
Stitch regulator and encoders
3 bobbins, pack of needles, and machine tools
Free Shipping! Please note the Grace Qnique 15R only ships within the continental US.
This is the machine and frame Leah has been using to quilt her quilts since 2017. She uses the Eversewn Sparrow 20 for piecing, which is her go-to home machine. Click Here to learn more about the affordable and durable Eversewn Sparrow.
Learn how to load your quilt on the frame in this quilting tutorial with Leah Day. This is so much faster and easier than traditional quilt basting!
Machines and Frames ship in 3-5 business days.
Would you like to watch more videos on the Grace Qnique Longarm? Click the images below to find all of the videos Leah has shared for Frame Quilting Friday: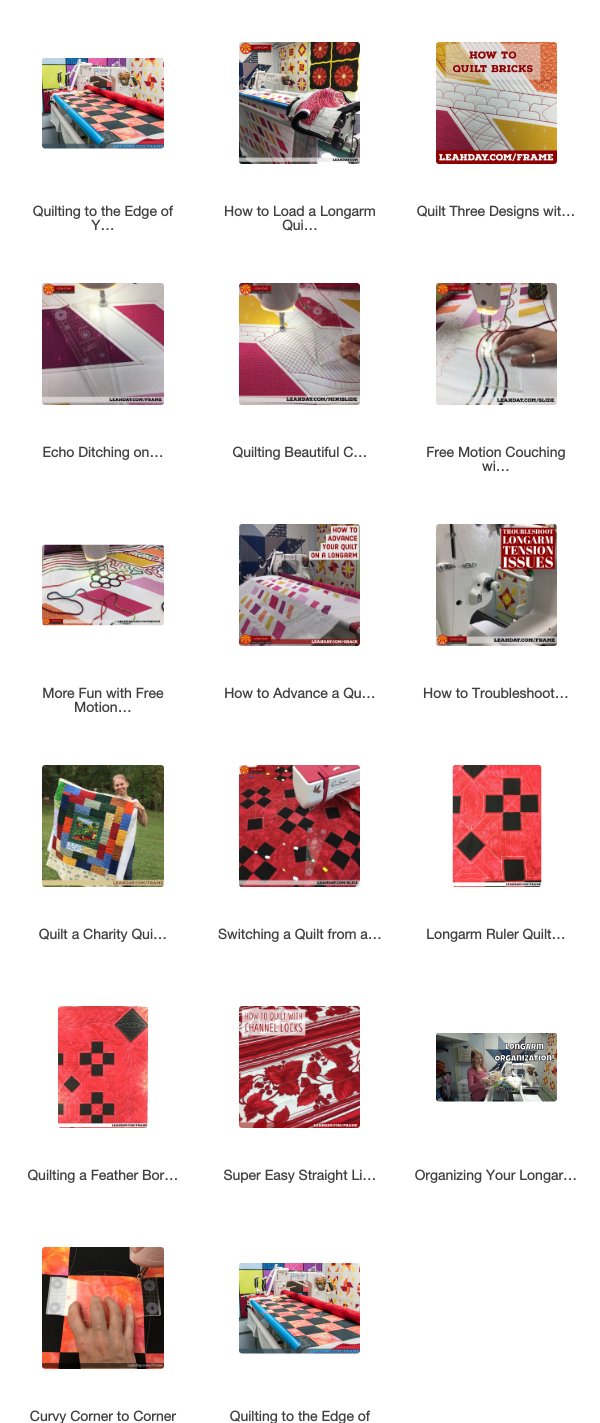 Quilting on a longarm is very different from quilting on a home machine or a sit down longarm. For this style of quilting, you're moving the machine which is set on wheels so you can move it smoothly in all directions.
The layers of the quilt are rolled onto the rails of the longarm frame. The best part about quilting on a longarm - no more basting! The frame evenly layers the quilt top, batting, and backing so you no longer have to baste your quilts with pins.
Learn more about the Grace Qnique 15R / 14+
The Grace Qnique 15R is a small entry-level longarm machine with 15 inches from the needle to the motor on the machine. The "R" stands for stitch regulated which means you can select how many stitches per inch you want to quilt and the machine will automatically match the speed you are stitching to the movement of the needle.
This is a very important feature because it makes quilting much easier and faster. No matter how fast or slow your hands push the machine handles, your stitches will remain the same size and shape.
The Grace Qnique has a powerful motor capable of quilting 1800 stitches per minute and the needle area is illuminated with bright LED lights so you can clearly see your quilt.
The handle bars have six buttons and a simple menu system so you can easily select your stitch length, control whether the needle ends in the up or down position, and change the controls from right to left handed. 
Two spool pins are located on the back of the machine along with a built-in bobbin winder so you can quickly wind the large M sized bobbins and get back to quilting. 
Note: The Grace Qnique 15R was recently renamed from the 14+, but it's the exact same machine. 
Learn more about the Continuum Quilting Frame
The Continuum Quilting Frame is terrific frame for beginning quilters because it can grow with you as your longarm quilting skills improve. This frame is available in two lengths: 8 foot and 10 foot, but you can also add an additional 2 foot extension to create a full sized 12 foot frame.
The depth of the frame can also expand if you decide to change longarm machines in the future. Set up the frame with 16 inches between the rails for machines smaller than 16 inches like the Grace Qnique 15R, or expand this space for longarms up to 21 inches long.
You can also set up only half the Continuum frame to create a 4 foot or 5 foot long frame to fit into smaller spaces.
Use this chart and measure your sewing room to figure out the perfect size frame to fit your space.
Frame Length
Actual Size
Minimum Room Size
Maximum Width of Quilt
8 Foot Continuum
36 x 103 inches
(3 x 8.5 feet)
7 x 11 sq feet
79 inches
10 Foot Continuum
36 x 128 inches
(3 x 10.6 feet)
7 x 13 sq feet
103 inches
12 Foot Continuum
(10 ft + 2 ft Extension)
36 x 152 inches
(3 x 12.6 feet)
7 x 15 sq feet
127 inches
Leah's Advice on Picking Your Frame
It can be really tough to know which sized frame to buy, especially when you're first getting started with longarm quilting. My best advice is to go with the maximum size your quilting space allows.
Building your frame will take time and effort and I know from experience that once you get it all set up, the last thing you want to do is take it apart and add an extension or extra feature. For that reason, I encourage you to measure your quilting space to see how much available area you have and select the largest frame to fit that space.
Remember - you can always quilt smaller quilts on a bigger frame, but you can't quilt a bigger quilt on a smaller frame.
The one exception is the Q-Zone Hoop Frame which allows you to quilt larger quilts on a 4 1/2 foot frame. Click Here to learn more.