Eternal Love Goddess Quilt
Finished Size: 20 x 25 inches
Eternal Love is a beautiful goddess quilt inspired by my son, James, and that amazing connection I felt with him. It's hard to put that feeling of overwhelming love, compassion, and understanding into words, so designing this quilt was the best way to express how I felt when he was first born.
The Story behind this goddess quilt
To say it frankly, I remember feeling slightly shocked when I held James for the first time. It was like he was a hidden present inside me and - Whoa! - that's a new little person! It honestly blew my mind.
But I didn't draw this goddess when James was little. I waited until he was 8 years old, long after he was wrapped up like this in a baby blanket.
I think I needed some time and space because immediately after he was born I slipped into a deep depression. I didn't feel like I deserved that awesome little baby or my loving husband. I felt unworthy of the life I'd built and useless. It took years to dig myself out of that hole and to learn how to see my value.
So some of this goddess quilt design is a bit wishful. I wish I could go back and better appreciate that time when James was little. I wish I could comfort that girl that couldn't stop crying all the time. I wish I could have rested and let myself heal and just held my baby and been happy. 
I couldn't do any of that then. I was too wrapped up in post-partum depression to be able to think straight. But I can celebrate that special time now and love my son and the amazing little boy (now a tween!) that he's grown up to be.
Turning Eternal Love into a Pattern
My original idea for this quilt was to have it printed on fabric as a cheater cloth panel. I was working with Island Batik and we tried the idea, but it just didn't end up taking shape in the right direction so I decided to try writing a fusible applique pattern instead.
I've gotta say - making a quilt like this for myself is one thing. I can work off a master pattern and don't need any instruction other than an hour or so to figure out how the shapes overlap. I've learned the hard way, that a pattern needs to be written with clear instructions and separated templates that have some sort of guide to how they are cut out.
Oh boy! That is a LOT of design work and a lot of planning to work out.
This fusible applique pattern took awhile to put together and I really couldn't have done it without Dad's help. My dad helps prepare fabric by washing, starching, and pressing it before any project. For Eternal Love, he also helped me test the pattern by reading the directions I'd written and trying to follow them himself.
Whenever he began to struggle, we'd work together to figure out what the issue was and how to simplify it. Sometimes that meant going back to the pattern and changing how the shapes overlapped. We ended up creating this quilt two times just to work out all the kinks!
But in the end, we've created a fantastic pattern that I'm really proud of sharing. Click Here to find the Eternal Love Quilt Pattern.
 Eternal Love Quilt Along
After creating the pattern, this seemed like the perfect quilt to share in a quilt along! Click the links below to check out the quilting tutorials: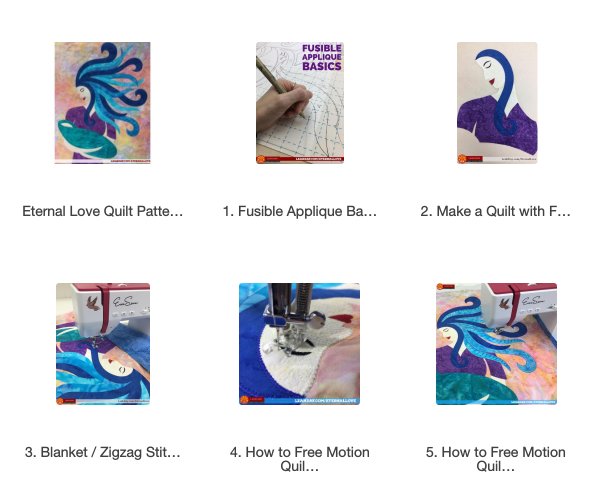 I'd love to see your version of the Eternal Love Quilt! Please contact us and send me a photo so I can share it here!
Let's go quilt,
Leah Day