Yes! We're hosting a Goddess Quilt Along!
I'm super excited to make the Eternal Love goddess quilt with you step-by-step in a Quilt Along starting June 4th. 
If you'd like to follow along, the first step is to gear up with your quilt pattern, kit, and any extra tools or supplies you'll need for this project. Click the links below to find lots of goodies to play with:
Eternal Love Goddess Quilt Along Schedule
This is going to be a short and sweet, super skill-building Quilt Along! Check out the schedule so you know when to expect new posts:
June 4th - Prepare and cut the fusible applique pieces
June 11th - Create the Eternal Love Goddess Quilt
June 18th - Blanket stitch quilting
June 25th - Quilting Part 1: Echoes and Feathers
July 2nd - Quilting Part 2: Swirling Feathers and Hot Hot Spiral
Are you excited to get started right now? Watch this quilting tutorial to learn how to prepare your fabric for fusible applique so you're ready to get started in June!
How will this Quilt Along work?
Very simply! On the dates listed above, I'll share a new quilting tutorial demonstrating how to complete one step of the Eternal Love goddess quilt. I'll add links to the posts right here so it's easy to find everything in one place.
Make sure to bookmark this page so you can easily follow along.
Follow along with the videos or work at your own pace. It's never a problem to fall behind because the quilting videos will remain online forever so you can catch up anytime. Click the images below to follow along with the tutorials posted each week.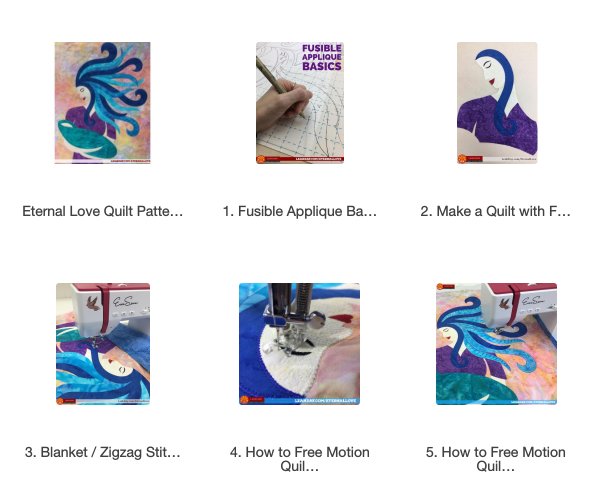 Are you still feeling confused? Post your questions to the comments below for help!