This bright, beautiful rainbow quilt was one of the first quilt patterns I wrote in 2008. But it had a glaring issue – I couldn't figure out how to quilt it! Originally I just tied the quilt together because I couldn't figure out how to quilt over all the different fabrics and colors without messing up the quilt.
Many years later when writing Explore Walking Foot Quilting, I remembered this design and decided it was time to pull it out and finally quilt it with a simple design that would accent the piecing and get the layers of the quilt stable and secure.
Walking foot quilting was a terrific choice for this quilt because it helped me keep the quilting design simple. I ended up using just two designs over the entire 80 inch quilt – Bright Star and Concentric Squares.
After the book was released, the Rainbow Log Cabin was the most requested quilt to quilt along together! I shared videos on how to piece and machine quilt this big quilt on a home machine. Find all of the videos shared for the Rainbow Log Cabin Quilt Project: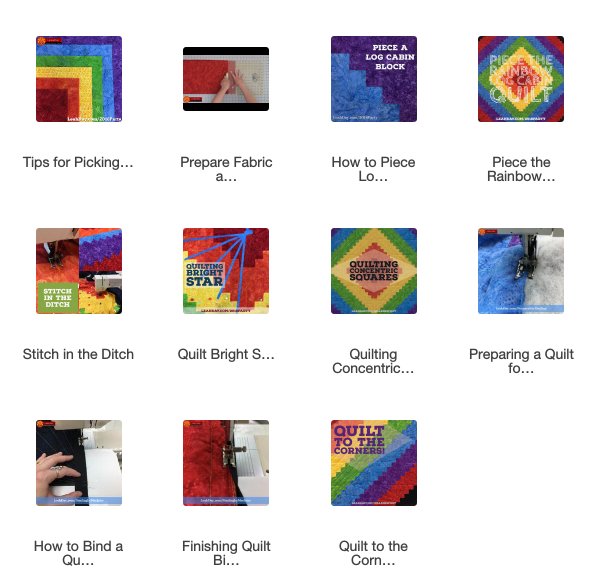 Book Correction: There was one issue that many quilters brought up in this quilt – the diagrams found on page 86 and 87 of the book.
Just in case you're working on this quilt, the block diagram on page 86 is correct. Please piece your blocks using that diagram and the instructions written on that page as a guide.
When arranging your quilt, it will be easier to arrange the blocks in one quarter of the quilt at a time. The only thing you need to pay attention to is the dominant / recessive color of the blocks. Do not worry about the exact arrangement of the inner pieces on the block diagram on page 87.
Find the quilt pattern and more information on piecing your Rainbow Log Cabin Quilt in the book Explore Walking Foot Quilting with Leah Day.
Learn more about the other quilts in the book and find a lot more quilting videos by clicking the links below! 
Prism Path
Baby Quilt

Infinity Knot Quilt

Love the Light
Wholecloth Quilt

Love the Light
Wholecloth Quilt
Let's go quilt,
Leah Day